6. Shortness of breath
The relation between kidney disease and experiencing shortness of breath, especially after little effort, is caused by two factors. First, extra fluid in the body moves into the lungs when kidneys are not functioning properly. Second, anemia deprives your body of oxygen and this results in shortness of breath.
Warning: There are various reasons for breath shortness from kidney failure to asthma and lung cancer or heart failure. If you notice that you are constantly out of breath after putting forth very little effort, you should contact your doctor immediately.
5. Swelling in ankles, feet and hands
Kidneys that are failing to perform properly don't remove any extra fluid from the body. This leads to sodium retention which causes swelling in your ankles, feet and hands. Swelling of the lower parts of your body can also signal heart and liver disease or leg vein problems.
Warning: Sometimes taking medication, reducing salt and removing excess fluid in your body can stop swelling. If it doesn't help, then you need a separate treatment.
4. Having back pain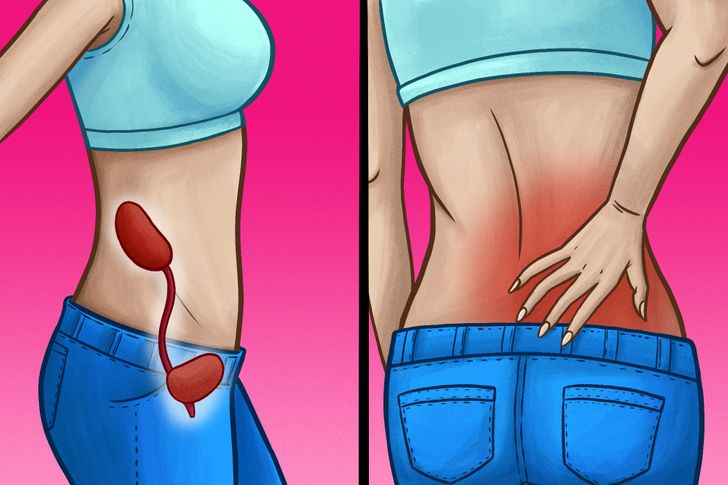 Kidney failure can result in back pain that is usually deep and located right below the rib cage. It can be felt in the front of the groin or hip area. Back and leg pain can be caused by kidney cysts, which are large fluid-filled sacs formed on the kidenys, and are the result of polycystic kidney disease.
Tip: Back pain caused by kidney failure is accompanied by feeling sick, vomiting, high body temperature and frequent urinating. Normal back pain that has no correlation with the kidneys behaves differently: pain is more localized and happens suddenly, there is no fever. If you keep experiencing back pain and pain relief pills are ineffective, make sure you see your doctor.
3. Puffy eyes
An early sign that your kidney's filter system is damaged is the onset of protein in the urine, which can result in puffiness around the eye area. The puffiness around your eye can be explained by the fact that your kidneys are leaking a large amount of protein into the urine rather than keeping it and distributing it throughout the body.
Tip: If you're sure that your body is receiving enough rest and protein, but you continue to notice puffiness around your eyes, make sure to schedule an appointment to see your doctor.